Prodrive PTO & Hydraulics is the exclusive authorized distributer/service center of Kozmaksan PTO and ABER Hydraulics in Canada. We provide a wide range of power take off systems and accessories for your hydraulic wetline kits and work truck applications.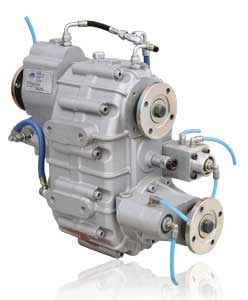 Kozmaksan type
4×4 Transfercase
is used in cases when the truck has front and rear differential and needs Four-Wheel Drive. The 4X4 Transfercase is located on the truck chassis between the main transmission and rear differential. The input flange of the Transfercase is connected directly to the shaft from the main transmission and transmits motion to both front and rear differential through the bottom outputs by increasing the driving torque of the vehicle. It is capable of transforming available 4×2 vehicles to 4×4 by the addition of the front differential equipment. Kozmaksan 300 Series 4×4 Transfercases designed for off-road vehicles, rail line maintenance vehicles and any application which needs 4×4 drive. Additionally, some of these Transfercases have PTO output and used on Fire Fighting Trucks. Kozmaksan
UARA.302
,
UARA.304
,
UARA.305
transfercases has PTO output.
SOME DETAILS FOR 4×4 TRANSFERCASE
Kozmaksan
300 Series Transfer Cases
have a differential locking feature that allows your car to continue on the road without difficulty. When the differential lock is activated, front and rear differential are getting equal torque. In case of the differential lock is deactivated; torque is transmitted to the differentials as needed. These Transfer cases can provide 100% of input speed during 4×2 drive. Kozmaksan Transfer Case makes the truck double speed as high gear and low gear.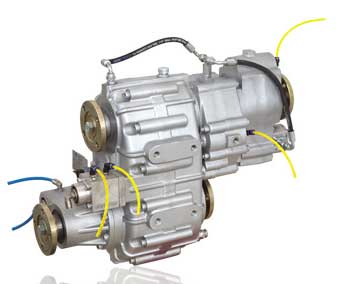 In addition to all these, the Kozmaksan transfer case
UARA.306
has a system that will move the vehicle constantly in the backward direction. With this system, it allows the vehicle to move backward at the required speed and gear, while the main transmission is used in the normal forward drive position.
The Transfer Case built on with lubrication system and preferably can be designed with the cooling system. The cooling system can be a heat exchanger or cooling fan. Engage/Disengage sensor can be installed on PTO output and main drive.
USAGE OF 4X4 TRANSFERCASE
The Transfercases are shipped as unoiled! Oil should be filled into the Transfercase by using the oil filling mechanism, before running the vehicle. The oil filling operation should be made on the ground. The required oil level is the top level shown on the indicator. The oil should be totally clean. You are required to use only the recommended oil (SAE 80 W 90 EP or equivalent oil). In case of using any oil other than the recommended oil, the vehicle is out of warranty coverage. Maintenance should be made before and after long trips. Maintenance should be made at ground level and when the vehicle is not running. In case the oil level is less than required, oil should be added. Make sure that old oil is totally drained and make sure that you are using recommended (correct) oil. In case of mixing old and new oil; This situation is going to cause damage to components of gearbox ( shaft, gear, bearing etc.)
First oil changing should be made following 250 hours after the Transfercase has started to run. Oil changing should be made when the oil is cold. Draining could be made by removing the drain plug. In order to accelerate the process, it is recommended to remove the filling plug also. Before restarting, the drain plug is required to be cleaned. Subsequent oil replacements should be made once in every 1000 hours or once a year.
Check for oil leaks periodically. Check for any oil leaks in the area where the vehicle is operated and the surroundings. In case of detecting any oil leaks, prevent oil leaking, add oil if necessary, contact with manufacturer firm KOZANOĞLU KOZMAKSAN
Services Include: PTO, power take-off, hydraulic PTO for trucks, truck PTO hydraulic pump, hydraulic pto pump, transfer case PTO, split shaft PTO, PTO wet line kit for end dump, hydraulic wet line kits for trucks, truck PTO hydraulic pump kit, hydraulic pump pto allison transmission, PTO hydraulic pump gearbox, PTO hydraulic dump pumps, gear pumps, piston pumps, air shift consoles, hydraulic valves, combo valves and hydraulic tanks/reservoirs parts and service along with power take off and PTO wet line kit installations.
Service Area: USA, Canada, Ontario, ON, Alberta, AB, Quebec, QC, British Columbia, BC, Nova Scotia, NS, New Foundland, NL, Manitoba, MB, Saskatchewan, SK, Greater Toronto area (GTA), Mississauga, Brampton, Hamilton, Niagra, London, Cambridge, Guelph, Windsor, kitchner, Oakville, Burlington, Ajax, Oshawa, Brantford, Barrie, Grimsby, St. Catharines, Woodstock, Milton, New Market, Vaughan, Markham,Chatham-Kent.